Official Eva: R Theme
Made for a very cool fan fic (Eva: R) of a very cool series (Neon Genesis Evangelion). This theme turned out incredibly well. We even got Tiffany Grant herself (voice of Asuka from the original series) to lend her voice for the theme!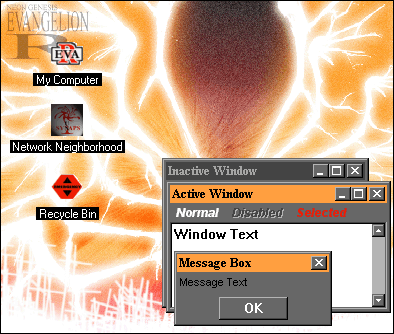 Click here to download - 4.09 Mb
Wallpaper
Sorry, but the wallpapers are only available for download all at once. Click here to download all backgrounds, all sizes (21.9 Mb). I will try to fix this in the future, but for now, I don't have enough space to do it any other way.

Halo 1 :

Description: A cool background of the upcoming game Halo, from Bungie software. Originally a screenshot, this image begged to be a desktop wallpaper. It was originally only 800x600, but I increased the size, and softened the edges of the 3D elements (manual anti-aliasing, for those who know :), added the title, and here she is!
Download: All backgrounds, all sizes (21.9 Mb)
Halo 2 :

Description: This version is supposed to be seen through the eyes of the alien about to attack the soldier. Very cool.
Download: All backgrounds, all sizes (21.9 Mb)