NOTE:
This section is temporarily offline while I look for more bandwidth. I'm hoping to get a real server for my domain soon, which will bring this back online, along with my Quake 3 skins, and some new content, such as cursors.
Official Eva: R Theme
Made for a very cool fan fic (Eva: R) of a very cool series (Neon Genesis Evangelion). This theme turned out incredibly well. We even got Tiffany Grant herself (voice of Asuka from the original series) to lend her voice for the theme!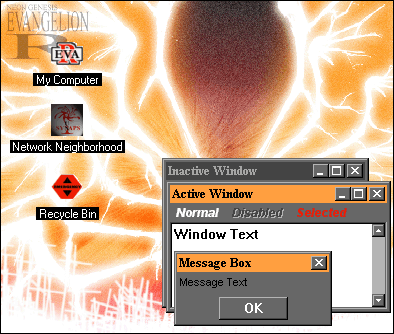 Click here to download - Temporarily unavailable
Wallpaper
Sorry, but the wallpapers are only available for download all at once. Click here to download all backgrounds, all sizes (21.9 Mb). I will try to fix this in the future, but for now, I don't have enough space to do it any other way.
Art Dinner 1 :

Description: Various works of art by Derelict, an artist for Rogue Entertainment organized in to a background [used with permission]
Download: Temporarily unavailable
Art Dinner 2 :

Description: Various works of art by Derelict, an artist for Rogue Entertainment organized in to a background [used with permission] This is a slightly different rendition without the devil woman on the right, which some people found a bit disturbing. :)
Download: Temporarily unavailable
Into the Void :

Description: An altered scene from the making of the Into the Void video by Nine Inch Nails.
Download: Temporarily unavailable
Damaged Metal :

Description: My pseudonym cast in metal, and bolted to your desktop.
Download: Temporarily unavailable
Velocity :

Description: Can you withstand the velocity?
Download: Temporarily unavailable
Silence :

Description: Calmness and serenity in silence.
Download: Temporarily unavailable
Drift :

Description: Drifting among the sea of emotion.
Download: Temporarily unavailable
@ :

Description: And from the chaos, emerged... @. Or something... I dunno. Looks neat, though, huh?
Download: Temporarily unavailable